We supply and install a wide range of fencing solutions from domestic garden fences through to industrial steel palisades. We use high quality products to ensure our fences last for years to come. Furthermore we have a vast amount of experience in all aspects of fencing. Whether it's to make your property more secure or stop a beloved pet escaping, we are more than happy to offer our advice and services.
Long Lasting High Quality Fencing
We have over 50 years experience in the industry. Our knowledge and thorough ground work will ensure your fence will be safe and secure for years to come. Our staff are qualified to take on any job whether it is domestic or commercial. From the initial quote we can advise you on the best solutions and what styles will go best with your home.
Commercial Fencing
We have the equipment to install fences on all surfaces. Our fences are safe and secure with virtually no maintenance. We can install any specification and we inspect all our work on completion. Fencing can be installed to large areas to secure your business premises. Contact us today on 01604 211111 to arrange a quote.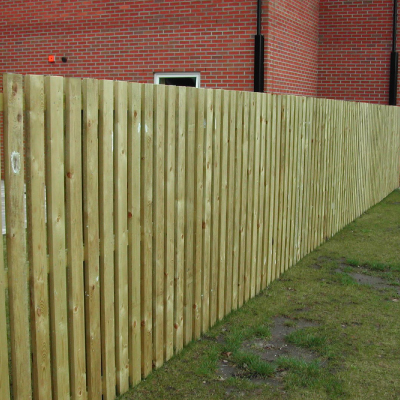 Raybell and Sons have a 5 Star Review from our customers. Don't take our word for it, read our testimonials. If you have any questions or want more information please get in touch. Contact us or arrange a quote.